Making Asphalt Beautiful
by Stamping Asphalt, Coloring Asphalt, and Applying Surface Systems
(916) 383-0441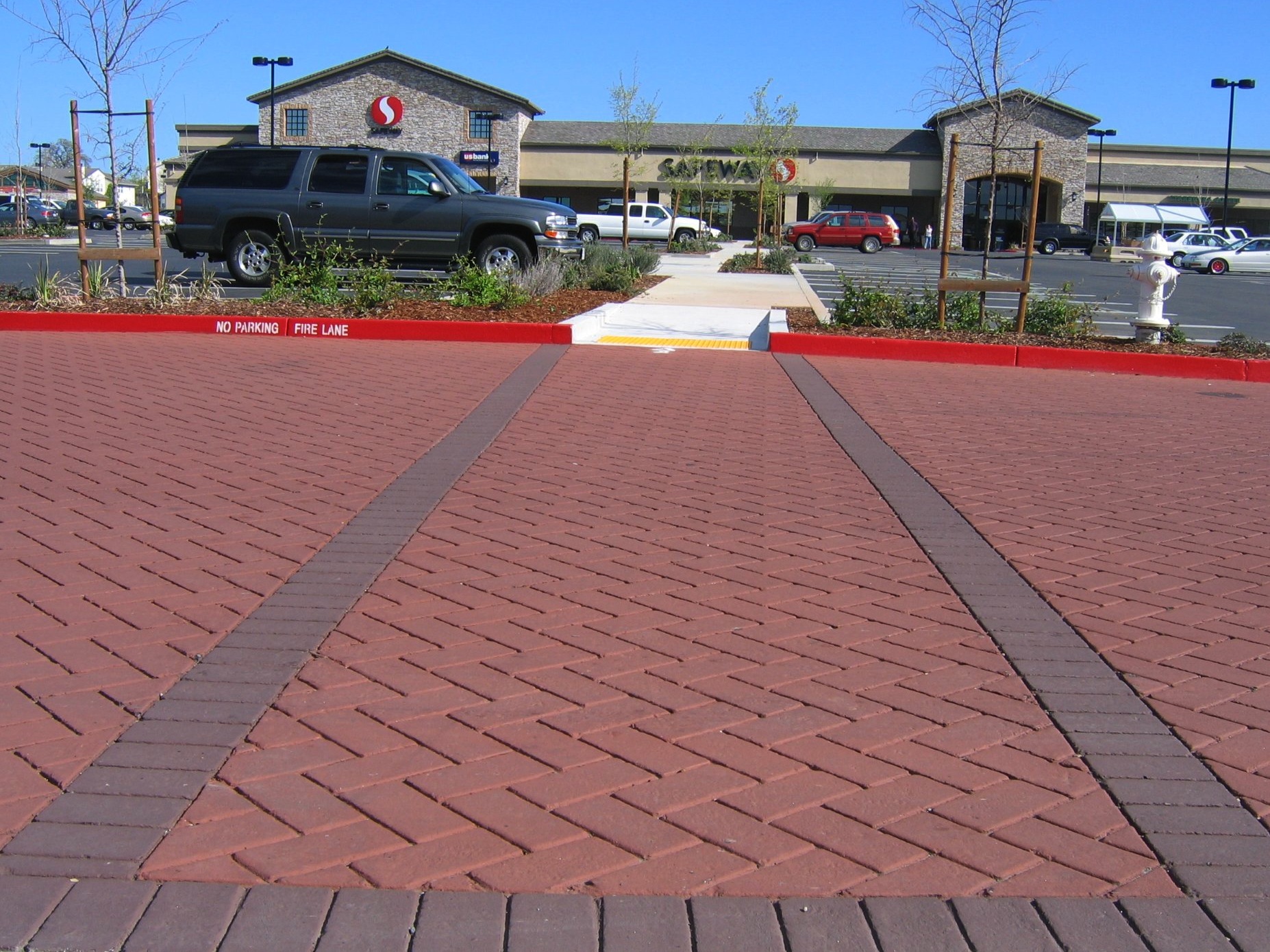 Stamping Asphalt
From basic to intricate, we can simulate many types of masonry, stone and tile patterns, and it doesn't stop there. By using special stamping templates we can create wide and varied types of textures that work best for your design objectives.
Coloring Asphalt
Innovative streetscape and hardscape design comes into full focus with the use of vibrant, unique specialized coatings. Bring visual aesthetic excellence that is durable, practical, safe and sustainable. Add value by protecting the asphalt substrate from the elements along with many solar reflective colors than can contribute to LEED certifications.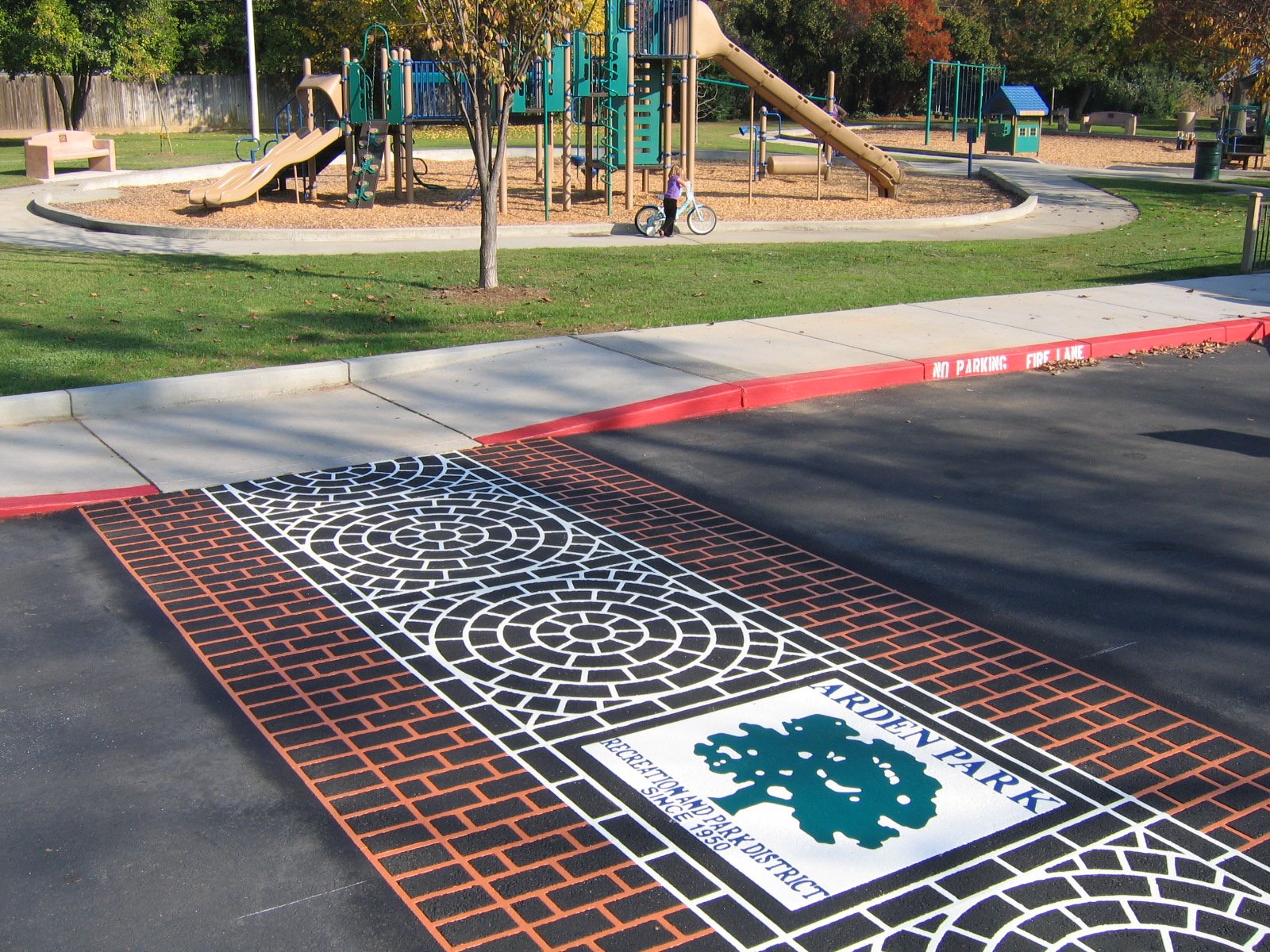 Surface Systems
Complete Streets and enhanced safety is delivered using rugged, skid resistant aggregate reinforced thermoplastic pavement marking materials. Crosswalks, medians, islands and more, improve traffic safety with enhanced visibility for pedestrians, motorists and cyclists.
---
Asphalt Impressions doing Colored Lane Treatment
Thank you very much for getting the beautiful Grant High School emblem installed in time for our Ribbon Cutting Ceremony. I really appreciate your extra effort to fit the installation into Thanksgiving week. The emblem is a wonderful finishing flourish to an impressive project – the blue and gold colors of the school emblem sing and has been echoed elsewhere around the Promenade to great effect.

Cindy Blain Community Partnerships & Innovation Director - Sacramento Tree Foundation

Great Job. Donald was great in communication and helping to make choices and keeping us happy. He and his crew always showed up on time, and worked quickly and neatly...very happy with them and the job.

Hal and Nancy Seibert Private Residence - Diablo, CA

In my opinion, Asphalt Impressions operates one of the finest decorative paving contracting operations on the planet. I worked closely with them as VP R&D for Integrated Paving Concepts. At IPC (now part of Ennis-Flint)  we serviced a worldwide (32 countries) network of over 300 licensed decorative paving contractors. Due to their skill, integrity and commitment to high quality workmanship, we consistently rated Steve and his team among the best. In addition, we relied heavily on them as product development partners and as a provider of top quality decorative paving reference sites.

Pat Wiley www.ecopavesystems.com

In my dealings with Steve over many years I have found him to be very professional and serious about building a business to be proud of. He has consistently shown a commitment to quality and ensures his crews are well-trained and well-equipped.

Glen McCrady Vice President at Quest Construction Products
Meet the team
Click or Tap Picture for Phone Number and Email
(916) 383-0441

sbiondi@acstamp.com

Steve Biondi President

The Biondi Family has been serving the Sacramento community 's paving needs since 1948. Steve Biondi, with over 30 years experience, is President and the third generation to push Asphalt paving technology to its highest levels. Through Biondi's leadership, Asphalt Impressions understands the characteristics, properties and best uses for asphalt substrates. You can contact Steve at sbiondi@acstamp.com or (916) 383-0441.

916.869.4084

dbowman@acstamp.com

Donald Bowman Vice President, General Manager

With over two million square feet of decorative asphalt enhancements installed under his direct supervision, Donald Bowman, Vice President and General Manager, has earned an exceptional reputation for customer service and quality. Over the course of fourteen years, Donald has been instrumental, not only in installation, but in testing products, tools and prototype equipment from suppliers to make materials and methods cutting edge. This is what makes Asphalt Impressions services so valued. You can contact Donald at dbowman@acstamp.com or 916.869.4084.

916.383.0441

jtokunaga@acstamp.com

Julie Tokunaga Vice President

Julie Tokunaga joined the team in May of 1999. She began her career as an administrative assistant and was quickly moved into operations and subsequently into the StreetPrint, asphalt enhancements division. With her background in the arts, it seemed a natural fit to move Julie into aesthetic enhancements, where she became the Estimator/Project Manager. There she could work directly with customers to help design, provide estimates and manage her customers' projects. In 2009, Julie was named Vice President. You can contact Julie at jtokunaga@acstamp.com or 916.383.0441.
Some Of Our Customers
Public Agencies, Builders, Contractors, Individuals and More
Our Solutions
Transportation - Education - Commercial - Residential
Transportation
We are a union affiliated parking and highway improvement subcontractor who provides varied specialized pavement marking services.
Commercial
Stand out above the crowd with development parking and travel ways that bring aesthetic appeal, elegance and sophistication. Create safe zones between pedestrian and vehicular traffic.
Got A Question or Need A Bid
Contact Us at (916) 383-0441, or Fill Out the Form Below
1Home